HERE IN HAWAII WE SPEND CHRISTMAS SITTING AROUND EXCHANGING GIFTS OF FISH, COCONUTS, BANANAS...ETC...
WE ALSO DECORATE A COCONUT TREE WITH VARIOUS FRUITS SUCH AS MANGOES, PINEAPPLES, PAPAYAS...ETC...
IN TURTLE BAY, HAWAII WE CELEBRATE A WHITE CHRISTMAS EVERY YEAR. WE CALL IT SAND.
IN CHICAGO YOU MAY HAVE SIX INCHES OF SNOW ON THE GROUND BUT HERE IN TURTLE BAY WE HAVE SIX INCHES OF SAND.
CHRISTMAS NIGHT IS OUR ANNUAL CHRISTMAS PARADE OF CANOES IN THE BLACK LAGOON. THE CANOES ARE DECORATED WITH TORCHES AND FLOWERS.
BRRR! THE TEMPERATURE HAS DROPPED TO EIGHTY DEGREES AND WE HAVE TO WEAR A SECOND SARONG AND TI LEAVES AROUND OUR SHOULDERS.
WELL, I HAVE TO GO AND HELP DIG THE IMU (UNDERGROUND OVEN) TO COOK THE FOOD FOR OUR ANNUAL CHRISTMAS FEAST.
AS WE SAY IN HAWAII AT THIS TIME OF YEAR....
MELE KALIKIMAKA
(Merry Christmas)
HAUOLI MAKAHIKI HOU
(Happy New Year)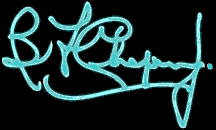 Ben Chapman
The 'REEL' Gillman