February 21, 2013 was the fifth anniversary of Ben Chapman's passing (Now seven years). Actress Julie Adams, who appeared with him on the movie and frequently accompanied him at conventions, sent the following tribute to Ben:
BEN CHAPMAN TRIBUTE FROM JULIE ADAMS
Hard to believe that on February 21st, 2013, Ben Chapman will have been gone for five years. Ben was a kind and generous man, with whom I had the good fortune to work with on Creature from the Black Lagoon. I remember the first time I saw him in the Creature costume, I was terrified. But as the production wore on I gradually became used to him as the Gill Man. By the middle of the production I would greet him in the morning with a friendly pat on his rubber cheek and say, "Good Morning, Beastie." Working on the film together became part of a lifelong friendship that many years later took us to horror conventions all over the country: Chiller in New Jersey, Monster Bash in Pittsburgh, Monster Mania in Philadelphia, too many to remember.
What I do remember was how much fun we had sharing a table together reminiscing about the good old days at Universal. Fans of all ages would approach, and Ben would delight them with every detail about how Creature from the Black Lagoon was made. He would tell the kids about how he would be watered down between takes to keep cool in the rubber suit and lots of other delightful stories. His energy and enthusiasm for the film was and is a large part of the enduring legacy of Creature from the Black Lagoon.
Though I knew he was having some breathing problems near the time of his passing, I never imagined losing him. He just seemed so energetic and full of life, particularly when the fans came around. He would always light up when someone would ask about his character or the making of Creature.
There is one behind-the-scenes story that we told at least a thousand times. It is the cave incident, when the studio forgot to heat the tank on the cave set. Ben and I were reluctant to get into the cold water, but there was no time to heat the tank, so we carried on like troopers. In the scene, he is supposed to emerge with me unconscious in his arms as he carries me to his underwater lair. Things didn't go according to plan!
Ben's Creature goggles fogged up when he emerged from the chilly water with me unconscious in his arms. I was freezing cold, trying hard not shiver when I felt a bump on my head. My eyes jolted open on impact and our director, Jack Arnold yelled, "Cut." Ben unable to see clearly, had accidentally hit my head against the paper mache rock of the cave set. As a result, I had a small scrape on my forehead.
Of course, the studio made a publicity stunt out of it, and a nurse was called in to tend to my minor wound. There is a wonderful picture that has become a fan favorite; it shows the cast looking over me with worry as the nurse tends to the scrape on my forehead. The best part of the picture is Ben as the Creature, kneeling over me solicitously. Every time I see that picture it warms my heart, and makes me miss him even more. It was Ben's gentle soul inside the rubber suit that helped make his character so enduring and resonant with audiences. Of course, I was fine and a few minutes later we got the shot and worked our way through the rest of the scene.
I have many wonderful memories of Ben. I know lots of other people who had the pleasure of knowing him do as well. I believe Ben is resting in peace, knowing that the Gill Man, that he helped make famous, is bigger than ever, living in the hearts and imaginations of film lovers all over the world. My heart goes out to Ben's lovely wife Merrilee and their family. It's hard to believe Ben has already been gone for five years. Like so many, I miss Ben dearly, and he will forever hold a special place in my heart.
JULIE ADAMS
Ben has a lot of fans around the world. Here is a collection of memories in the order they were sent.

I know my walls are covered with Creature images and Ben's personal autographs. I am glad he got some recognition in the past years.

(It was very cool seeing him at Wonderfest 2004....I suggested they bring him to Wonderfest in way back in 1996 with a 3-D viewing....so very glad it happened, 8 years later.)

Ben,now don't go around haunting Wakulla Springs (Black Lagoon) causing mischief. Well on second though ...that might be cool too !

Love you always, Ben............Monsterjones

I just saw the original flick in 3-d here in Atlanta,Ga. last summer.What an incredible performer!!This was definately one of Hollywood's greatest performances.His performance made the "Creature" what it was.It was always my favorite of the Universal classic horror icons.He'll be greatly missed but even more greatly remembered. Avery Battles

I would like to say that today is a sad day for the fans of the Creature. I can remember growing up watching The Creature from the Black Lagoon. One of the best movies of all time in my opinion. Ben might be gone but he will always live for ever as The Creature for generations to come. May you rest in peace Ben we all love you.

JOSE ROLDAN

The team at Icons of Fright wants to send it's prayers and well-wishes to Ben's friends and family.

3 years ago we were just starting out on the internet and Ben was gracious enough to spend nearly 2 hours on the phone with us for an interview. Only a day before he passed I was asked what interview, of all that I've done over the years, I was most proud of and without hesitation I said my interview with Ben. I still have the tape from when I spoke with him, and I'll treasure it always.

Again, my sympathy to you and all of Ben's friends and family during this difficult time.

-Mike Cucinotta and the entire staff at Icons of Fright

Please note that Ben introduced us at a show up in Chicago afew years ago. I'm the guy that designed his "lime green" THE REEL GILLMAN t-shirts. Anyway...I am really saddened to hear the untimely passing of "Uncle Bennie" earlier this afternoon. Ron Adams (Creepy Classics and the MONSTER BASH convention), informed me of the news. I just clicked onto his site that you designed and saw your message, and I had to give you a write.
The last time I spoke with Ben was around Feb. 9th or 10th (2008), and it was always a pleasure. infact, I called him atleast once a week to see how he was doing (both himself, and of course, Merrilee). If I was down, his voice was a great lift upward. He would also say the same. For example, when he would answer the phone, first off would come "Stephennnnnnnnnnnnnnnnnnn...my buddy!!!", and of course, the conversation would always end "Love to you and Aloha." Saddly enough, I will miss those comical chats dearly, but the memories will always remain cherished. Any particular memory (you ask), well...there's just too many. To pick just one...that is quiet difficult.

Let me end this by saying that loved "Uncle Bennie" very much, as like many others outthere. He loved to see all of us smile and hold the "Creature" dearly in our hearts. As like Ben would always say, "Welcome to my Black Lagoon" (when signing an autograph), I think that he has found peace, and is resting in his lovely Black Lagoon.

Here's to "Uncle Bennie!!!" May he rest in piece knowing that he was well loved by all of us monster-kids aound the world.
Respookibly beast regards,
Stephen Marcum

My name is Brian Keene. I am a best-selling horror novelist and had the
pleasure of knowing Ben socially (we were guests at many horror cons
over the years). I just wanted to express my condolences to his family, and
also let you know that I posted a brief remembrance on my Blog.

This is truly sad and I am holding back the tears. I first met Ben at one of the Frightvisions in Ohio. The next year I saw him, he remembered my face, I don't know if that was good or bad, lol. It was kind of a slow day at the convention and he invited me to sit down with him. He shared several stories with me about being the Creature and about his life and what he had done. I felt as if I was sitting with my Grandfather as Ben's personality reminded me of him. When a fan would come up, he would have fun with them all, he truly loved his fans! After that show, I then started corresponding with him via email, just small chit chat to see how he has been and what he had been up to. Every time I saw him after that, he'd treat me like an old friend. He even called me a couple times to thank me for the Creature items I had sent him! He truly was 1st class! It is a true honor to have known him! I feel like I have lost a friend and my Grandfather all over again!

God Bless Ben and his Family!

Brian K

Grant, Ben and I used to go watch him YO YO practice almost every other weekend. He was young then, about 1996-1997 That's where I sat and listened to his tales of Hollywood/Universal and Kennedy's. Here's another picture of him at one of his Big Birthday parties (he was feeling pretty good! :) ) Two of the guys next to me were friends from the Island. The bald guy was another character, stunt actor from the Universal years that Ben knew.

Bill "Drac" Edwards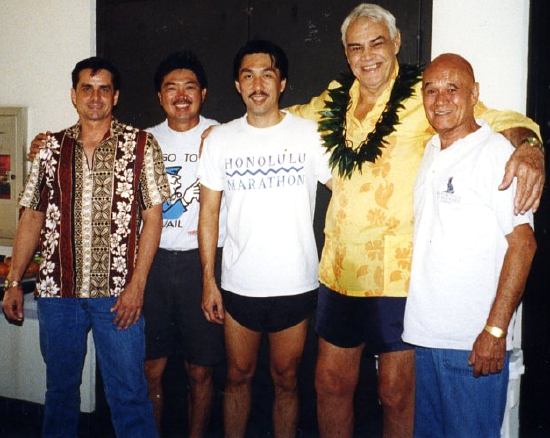 Back when I was publishing my fanzine, someone gave me Ben Chapman's phone number. I hesitantly called and he was just so forthcoming and generous with an over-the-phone interview, signed photos, information, etc. He was so appreciative that all of us Monster Kid fans existed and that a small little fanzine like Stoner's Monster Mayhem would even be interested! We became good convention going friends and I always looked forward to his Christmas card from Hawaii!!

Ben was quite the character and I will miss him dearly!

Maniacally,

Rick
Stoner's Monster Mayhem

I had the distinct honor to interview Ben a number of times, in particular for Scarlet Street Magazine and Rue Morgue Magazine. We became fast friends, and Ben -- despite the huge difference in age -- was very much young at heart and was simply "one of the boys" after-hours in the hotel lounges. We had many good times away from the dealer tables and what not. He was a funny, loving human being whom I will miss beyond words. Thank-you Ben for all the memories you have left with me and so many others. The Gill-Man will never die. God bless your soul and watch over your family during this trying time. See you again one day, my friend.

With the heaviest of hearts,

- Michael Michalski

As a fan, I had the opportunity to meet and speak with Ben Chapman at a number of coventions, including Chiller Theater, Charm City Creepcon, Frightvision and Monster Bash. In 2002, when my wife, Heather, and I were planning a trip to Hawaii, I e-mailed Ben to ask if there were anything on Oahu that he would suggest we not miss. His response was to send me his home phone number and ask me to call him when we got into town so that we could discuss it over coffee. That was the kind of man Ben Chapman was. He loved his fans and he loved Hawaii. His kindness and good humor will be sorely missed!

John Scheeler
Crownsville, MD

This is a hard piece to write - because Benny was a close friend and sort of adopted second father. I was shocked and stunned to learn of his passing. However, I have so many fond memories I would love to share and what better way to subdue the pain of his death, than by celebrating his life.

I remember the first time I met Ben for breakfast to interview him and it turned into a five-hour breakfast and was the beginning of a beautiful friendship. The restaurant was well into the lunch crowd by the time we were done .........

It would be nearly impossible to pick one great memory of this amazing man, who was a wealth of knowledge where the Golden Age of Hollywood was concerned. I remember one convention in Baltimore he asked me and Scott Erhard to join him to assist him and work his table with him for the weekend. Or when he strongly suggested I attend my first MONSTER BASH and I brought my girlfriend at the time, what a weekend that was. All of the dinners I shared with him, all of the fond memories and great stories. Documenting the 50th Anniversary CREATUREFEST with my producing partners Matt Crick and Eric Rosenberg, for our feature film, CREATURE FEATURE: 50 YEARS OF THE GILL-MAN, which will be coming out soon on DVD.

Perhaps my favorite was watching BENNY miss two hours of PRIME AUTOGRAPH TIME on a Saturday afternoon, so he could sit and watch CREATURE FEATURE in the auditorium with a full house of MONSTER FANS at the MONSTER BASH CLASSIC FILM CONFERENCE, a screening that still means more to me than MOST of the BIG FILM FESTIVALS or MOVIE HOUSES that screened it. More than the forthcoming DVD release. Watching my good friend, Ben Chapman sit quietly and intently, living and breathing every moment of our film. And hearing his response afterward, how much he liked it. Him saying, "When can I get one?" Or even all of the help he gave us along the way. All of the love he showed me, the film, and his genuine friendship, which I will treasure for the rest of my life.

Ben Chapman - YOU were the last of the original Universal Monsters, and you will LIVE FOREVER in our hearts and in our minds, and yes, on the SILVER SCREEN you enjoyed so much.


Sam Borowski
Writer-Producer
CREATURE FEATURE: 50 YEARS OF THE GILL-MAN

I have a mini-poster of the film in my apartment. Now I can tell my sister's kids that he was not only an American hero, but an inspiration.

May he rest in peace.

Please send my condolences to his family and friends.

Thanks!
Joey Donovan
Ad Astra Radio
The World's Premier Science Fiction Talk Radio Network®
Ad Astra Communications, LLC
561-752-6986

To Ben Chapman's Family,

I am very sorry to hear of Mr. Chapaman's passing. My own father passed a way this past October, so I know how hard it is. About a year ago I wrote to Mr. Chapman to tell him what a big fan I am am of the Creature from the Black Lagoon and to get one of his autographed pictures. After he sent it to me I wrote him a note of thanks. He then responded with a note back which I thought was so considerate.
Our family will keep yours in prayer during this difficult time.

Sincerely,

Dr. Bradford Garrigues, Sr.

When i was small, i loved horror movies and watched them every chance i got. my favorite was the creature from the black lagoon. i decided i was going to be a mermaid when i grew up and i would marry the creature from the black lagoon. my mom burst my bubble by telling me i couldn't grow up to be a mermaid, so i decided i wanted to be lily munster or morticia addams and i was still going to marry the creature! nothing was going to stop me!

fast forward 30 some years later. i meet a funny werewolf from toronto and we become friends. he learns of my creature obsession and happens to know ben chapman personally, having met him at a horror convention. it is february, and i am having a tough time due to some personal setbacks. the wolfman emails ben and has him send me a valentine to cheer me up! honestly, it was the best valentine's gift i have ever gotten! not long after that, ben sent me an autographed photo in all his gilly glory! he was an amazingly nice person and i will never forget the kindness he showed me. i am truly a fan for life. may he rest in peace!

truly saddened by the loss,
diane

I met Ben at Fan Expo in Toronto in 2006. He was right, there were a lot of Canadian fans that hadn't met him yet! He told me and probably everyone else that his doctor forbade him to come, but he wouldn't hear of it, saying that he lived for his fans and always would. How about that, making me feel special! In less than five minutes, he absolutely made my whole trip, and I travelled 3,000 miles to get there. By the end of the weekend he was getting wheeled around in a wheelchair, but he still had a big smile on his face. What a helluva guy. My sincere condolences to his family.

RIP Ben...

Dave Hermary
Red Deer, Alberta, Canada

Having met Ben at several conventions the past few years, most notably at "Monster Bash," and knowing him through my friend Sam Borowski's documentary "Creature Feature," I can share with everyone how nice and warm a gentleman Ben was.

Ben was a gentle giant, who ALWAYS had time for his many adoring fans. I had the chance a few times as the conventions were wrapping up to sit down with Ben at dinner with some friends -- even though he was a bit tired from an exhaustive convention weekend, he had the energy to regale everyone with Creature tales and stories of old Hollywood.

Aloha, Ben. You will be missed.

-- Stephen Hart
sportswriter and horror/sci-fi fan
Staten Island, NY

I am deployed with the Marines in the Sandbox. I could submit a nice Ben tribute to the Public Affairs office. I will explain he served in the Korean War as a Leatherneck.

I am not sure how many kids he had. I know of his wife, Merrilee, and son Ben (III). I also know he has a Marine son and a daughter. However, I don't know their names. If you know all his children's names, please send them to me. Big Ben will be missed.

My wife, Lise, and I met Gentle Ben four times between 1999 and 2004. Please send our condolences to his family.

Pasted below is an article my hometown paper printed for me. Here is to Big Ben:

This story was published 11/10/2007 by the Opinion desk.

Letters / Thanks for the memories (Creature Feature Tribute)

JON THORSON - Cedar Falls native deployed in Iraq
Waterloo/Cedar Falls, page A7 (Full version)

CEDAR FALLS --- Autumn 1974: The seven-year old ran into the kitchen after playing kick the can with pals, "Yum, chocolate milk good!" His mother eyed the clock --- 10:25 p.m., "Jon Allan --- no monsters."

At 10:30, a blood-shot eye stared down thousands of eastern Iowa kids on KCRG Channel Nine. Jonny frightfully bolted toward the stairs, taking only two leaps to his basement lair. Did he just hear his Aurora Wolf Man model howl? He imagined beautiful vampire brides hovering about. He quickly wrapped blankets around his neck for protection and tiptoed to the stairs in paranoia. What fun loving kid could miss out on Dracula, Frankenstein, the Gill Man, Godzilla, Mr. Hyde, the Invisible Man, King Kong, the Mummy or the Wolf Man?

Chuck Acri hosted the legendary Creature Feature, showcasing a double-header of creepers. My former creative writing teacher, Erik Melberg, praised the show due to its mixed chemistry of gags, interaction with children, monster skits and some quaint adult humor. It kept all ages glued to the tube. As my mother, Franki, hates to admit it, I would often bust her gazing at a monster flick as she tried to crouch behind the recliner.

My wife and I met classic celebrities, such as Kevin McCarthy, Sara Karloff, Ben Chapman, and Waterloo 's Julia Adams at the Monster Bash in 2004. This autumn, treat yourself to a classic monster film. Thanks for the Friday memories Chuck Acri and your gang of ghouls.

Jon Thorson

I just read the sad news through my myspace friend William. I wanted to send my condolences to the family at this sad time. How sad we lost such amazing talent so soon. God Bless.

Thank you for making me jump!
Candy Knox
Newark, De.

Merrilee- You may not remember us (Ben always thought that Joe looked like your Dad), but the three of us did meet you at the Creaturefest in Wakulla, FL. All of us, especially Claire, are grieved deeply now that Ben has gone on to be with the saints and his family in the true Paradise. We can just imagine his cousin, Jon Hall, waiting at the pearly gates for him with St. Peter.

Ben became very dear to each of us, not just as a favorite "Classic" motion picture monster icon, but more importantly, as a kind and generous friend who never became bored or impatient with us, no matter how many times we imposed upon him at the shows, and who always made us feel that he genuinely enjoyed seeing us. We were looking forward to seeing him at the Monster Mania next month in New Jersey, but that is not to be. Instead, he was with us last night at our home in King of Prussia, PA.

Carmine (Sonny, to Ben) suddenly suggested that we watch the Creature from the Black Lagoon last night. We didn't know of Ben's passing at the time. After watching the movie, we watched for the first time, a special feature on the DVD which showed various still photos, not only from the movie, but of Ben clowning in costume, some with his mask off so you could see that incomparable smile of his. At the conclusion, oddly, although we have watched the movie innumerable times previously, we all felt somehow really happy in a way that we hadn't on any of those other viewings of the show. Just before going to bed, Joe checked our answering machine for messages received earlier in the day. One of the messages was from Ben's friend and film personality, Connie Brooks, of Plan Nine From Outer Space fame. Connie's message was to let us know of Ben's passing. We were devastated, but suddenly we realized that it was Ben who inspired us to watch the movie. It was his way of being with us for the last time.

We'll all miss that glowing smile and "Aloha", but we know that Ben is always with us; he lives in our hearts and minds forever.

Sincerest condolences,

Claire, Sonny and Joe De Maria