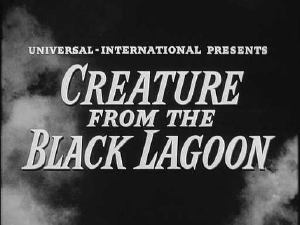 Continued from page 1
Production to Begin in February
October 17 , 2007
ComingSoon.net

Universal is putting a priority on the production of the Creature From the Black Lagoon in order to beat a possible strike by the Screen Actors Guild. Production is set to begin on February of 2008.

Sneak Peak at the New Script
October 12 , 2007
IESB.net (and others)

The 124 page script has been leaked to a few individuals who are divulging the contents. Warning- There are spoilers below...

The movie opens with an ex-research fellow named Carrie and her fiance taking a trip down the Amazon. Their boat breaks down and they are assumed dead. They are stuck in the Amazon rainforest and after spending a difficult evening in the wild, they run into a pharmaceutical research vessel named the Deadelus. This vessel is on a secret expedition in uncharted territory. They are given a lift by the team leader, Morgan, and the research institute executive named Andrew.

Their destination is a lagoon with valuable black algae laying on its floor. They soon discover a strange effect the algae has on the area. Everything around is growing at an accelerated rate and regenerates when they try to clear a path to the lagoon. Andrew discovers a tree that grows its branches back after they were removed only hours before. Morgan then stakes his claim to the area. What would a horror movie be without a love story? A love triangle begins between Carrie, Andrew and John. In the distance, they are watched by a strange creature hiding in the foliage. The Gillman doesn't disappoint and later attacks raft dwellers, among others. In the remake, the Gillman may be a Gillwoman as she has younglings swimming with her. The creature is also much more mobile with the ability to climb trees and swing around rather than walking slowly.

Their first encounter with the Creature is when they capture one of babies. This makes the mother very angry, of course. Thus, the audience is able to root for the monster.

Tim Flattery Creates the Special Effects
October 11, 2007
IMDb

Concept artist Tim Flattery is busy creating the new look of the Gillman and other special effects in the upcoming CFTBL movie. Tim's work includes Pirates of the Caribbean and Mission Impossible.

Strike Entertainment to Produce with Garry Ross
June 20 , 2007
Variety

According to Coming Soon.net, the newly formed Strike Entertainment company is co-producing and co-financing Creature From the Black Lagoon with Garry Ross. Strike partners Marc Abraham and Eric Newman joined the franchise in pre-production.

CFTBL to Include an Environmental Theme
March 13, 2007
New Kerala

According to New Kerala, Hollywood News says the CFTBL remake will include an environmental theme woven into the movie (Probably the rain forest exploitation theme mentioned in the L.A. Daily News below).

Theme to Include Rain Forest Exploitation
March 11, 2007
L.A. Daily News & CBS News

According to the LA Daily News and CBS News, the theme of the remake will be of a "murderous fish-man of the Amazon is spawned by the sins of a pharmaceutical giant."

"It's about the rain forest being exploited for profit," explained Gary Ross...

Universal Negotiates for Huge Water Tank
February 23, 2007
Gold Coast Weekend Bulletin

Universal is negotiating for use of the massive water tank used to film underwater scenes in Fool's Gold. They want to use it to film underwater scenes for Creature From The Black Lagoon. The tank is a permanent fixture in Queensland, Australia. Arts Minister Rod Welford said the tank would give the Australian Gold Coast a competitive edge over other movie making cities.

Release Now Slated for 2008
November 10, 2006
Internet Movie Database

The Creature From the Black Lagoon remake is now slated for release sometime in 2008. No reason has been given for the delay. Production continues on the movie.


Creature From the Black Lagoon
November 8, 2006
Hollywood.com

The final production credits are as follows:
Gary Ross- Producer
Robin Bissell- Executive Producer
Arthur A. Ross- Producer
Allison Thomas- Executive Producer
Leslie Urdang- Producer
Larger Than Life Productions- Production Company

Brian Steele To Play Gillman
March 17, 2006
The Horror Channel

Universal Pictures has cast veteran creature performer Brian Steele to play the Creature in their remake of The Creature From the Black Lagoon, according to the Horror Channel. THC explains that Steele's more recent gigs have included lycanthropic shennannigans in both 'Underworld' films, a Hell Knight in 'Doom' and the Drake Monster from 'Blade: Trinity'. He even played the creature in Stuart Gillard's aptly titled TV movie 'Creature.' Breck Eisner is set to direct the pic, which is scripted by Gary Ross. In the original a scientific expedition traveling up the Amazon River encounter a dangerous humanoid amphibious fish creature.

Another Look at the Script
December 25, 2005
The Horror Channel

The story opens with a preview piece of what the Creature is capable of, as he kills some natives searching for gold. The scene, like so many other aspects of this script, there for no reason other than to throw a scare at the audience right off the bat. Not a bad idea, considering almost nothing even remotely scary takes place within the next 50 or so pages (roughly 45 minutes of film time). And when those "scary moments" do come into play don't worry, there's nothing scary about them at all outside of cheap jumps.

So on with the story; a married couple has hired a boat to take them up the Amazon to spend some time in a tree top resort, the sort of thing only rich people can do. The husband, John, is a psychiatrist and the wife, Carrie, is apparently a former patient (though this is never said explicitly) who suffered from chronic fatigue syndrome. In other words, she got tired a lot. So now she's all better and wants to travel up the Amazon, but John is still overly concerned about her well being, so much so that for the bulk of the script he's yelling at her to not to do something crazy or whining that she's leaving him behind when she's doing the crazy stuff. The both of them are annoying and useless for the most pat and have no point in this tale save to serve as the "normal" people in the mix and an excuse for everything to be explained to the audience...

Read the rest of the review here. That's two strikes against it. I'm beginning to get a little worried. Gary, please tell us there's more to the script than this!

A Peak at the Script!
December 21, 2005
The Latino Review

Ingredients:
1 couple including the heroine and her husband:
Carrie and John
1 mysterious vacation (?) to the Amazon for the couple
1 boat supposed to take the couple to their hotel that breaks down
1 bigger science vessel that intercepts saving the couple from a day of mosquitos, monkey screams and day-old carne asada
7+ cardboard cut out science vessel occupants including a scientist, a researcher, a chef, a dastardly ship 'captain', some assistants, some crew
1 blimp

Gently add:
Uncharted Amazon River tributaries thousands of miles away from any civilization

Stir in:
Spooky sights and sounds of the 'uncharted' Amazon
Some spooky natives in sceeerrry make-up and 1 whole 'Creature', along with any relatives if you can find them.

Mix until desired consistency, place batter in toilet, flush several times and sojourn to the living room (or where ever it is that you watch movies) and pop in the DVD for Batman Begins and forget you ever heard of such a concept...

See the rest of the script review here. Let's hope they make a lot of improvements to the script!

The remake is a Go!!
May 29, 2005
Pertinent Link
by Victor Salva

Flash!! We have great news. The Creature from the Black Lagoon remake has just become a green lit project at Universal Studios. The script has already been written (by Gary Ross, a relative of the original screenwriter for the original film) and a director --Brett Rattner-- has been assigned to the project. We will keep you up to date on the details as they come in.

Creature cut from 'Van Helsing'
April 30, 2004
East Aurora Advertiser

LOS ANGELES, Apr 30, 2004 (United Press International via COMTEX) -- A Hollywood director has revealed the Creature from the Black Lagoon did not make the cut for the upcoming "Van Helsing" monster film.

Stephen Sommers, assembled the Wolf Man, Frankenstein's monster, Igor, Dr. Jekyll and Mr. Hyde and Count Dracula and his brides for "Van Helsing," a film about a vampire hunter, but said the Creature did not make it past the initial script, Zap2it.com reported Friday.

"We had a castle that had a moat, and who better than the Creature from the Black Lagoon to be living there, but that was only in the first draft of the script," Sommers said. "He didn't make it in any of the other versions, and we never shot a scene with him in it. It was just too much."

The Hugh Jackman-starring film, next Friday, revolves around a number of Universal Pictures legendary horror characters from the 1930s, which may have contributed to the Creature's premature demise from the film. The "Creature from the Black Lagoon," a relative youngster, debuted in 1954.





Creature Remake Delayed Until 2005


January 21,2004


According to the The Web Film Release Schedulethe Creature remake has been delayed until 2005. Forever we wait!!!

Del Toro Not Attached to 'Creature' Remake
November 14, 2003

'Hellboy' director Guillermo del Toro has posted the following on the official Hellsite message boards in regard to his oft-rumored attachment to a 'Creature' remake:

CREATURE FROM THE BLACK LAGOON I have never been in development with this property. I just pitched a possible idea to do a Jules Verne sort of adaptation of the premise. I am now part of tha many guys that have "pitched" a CFTBL movie( Carpenter, Landis, etc) in a way I am relieved, Seeing the original with my daughter made me realize how perfect it is- Oh, Julie!

Trouble on the Creature Movie Front
24th April 2003
From The Z Review

Creature From The Black Lagoon Update: Guillermo Del Toro has revealed that he is no longer interested in remaking Creature from the Black Lagoon.

Wednesday 23rd April 2003:
Creature From The Black Lagoon Update: Guillermo Del Toro has just written the following online about Creature from the Black Lagoon "I want to set the story in Victorian times during the exploration of the Amazon. The original Creature was essentially King Kong, but I want to make it more a 'beauty and the beast' fable. I want the look and feel to be akin to Jules Verne's tales like 20,000 LEAGUES UNDER THE SEA. I want to increase the horror edge and make it really scary, because my archaeological explorers will discover an area of the Amazon that has been kept on a tangential track of evolution alongside mankind. So there will be giant carnivorous squid, prehistoric sharks and weird alternate lifeforms that shouldn't really exist in such a fresh-water environment. Fish do truly have either an angelic or devilish quality, and I want to play on that. The Creature will be the Man of this exotic world," del Toro explains. "He will be very smart and able to turn the tables on his human hunters. I have a scene where the hunters find fossil remains and realize that the Creature's brain cavity is larger than a human one. He's not the lumbering, roaring monster of Ricou Browning's day, but a sophisticated Gill Man that will come to life through a mix of CGI and a man in a suit. In the original film, the Creature falls in love with the Julie Adams character. The twist in my version is that the girl will also fall in love with him. I want her to almost get it on with the Creature!"

Wednesday 12th March 2003: The Creature From The Black Lagoon Update: Writer Tedi Sarafian has been hired to pen a remake of The Creature From the Black Lagoon for producer Gary Ross' Universal-based Larger Than Life company. Ross' father, Arthur Ross, penned the script of the original 1954 creature feature.

The Creature Remake Slated for Release in 2004Film Releases

The Creature From the Black Lagoon is scheduled for release sometime in 2004.


From The JoBlo Movie Review
New Writer is Hired
March, 2003

Universal Pictures has hired writer Tedi Sarafian to write their remake of THE CREATURE FROM THE BLACK LAGOON for producer Gary Ross (PLEASANTVILLE). Sarafian most recently wrote the script for TERMINATOR 3 and previously wrote TANK GIRL and THE ROAD KILLERS. While Ross might seem an odd fit for a monster film like CREATURE, his father, Arthur Ross, wrote the original and his son is keeping the legacy alive. Universal is hot on marketing their monster archives after THE MUMMY saw so much success.

Del Toro to Uni's Creature Redo
August 07, 2002
From IGN Insider

Universal is remaking the 1954 classic The Creature from the Black Lagoon.

There has been much confusion (for me anyway) surrounding a recent report on the Production Weekly website. They reported, in their August 3rd edition, that actor Benicio del Toro was attached to direct a remake of Universal's 1954 classic The Creature from the Black Lagoon. Huh? Yeah, you read that right, Benicio del Toro, not popular genre director Guillermo del Toro.Ê Although Benicio, star of films like Traffic and The Way of the Gun, has directed before - his short film Submission debuted at the 1998 Venice International Film Festival - I thought the report had to be a mistake... Somebody must've gotten their wires crossed somewhere. A project like The Creature project is right up Guillermo's alley!

Now, after some careful checking, IGN FilmForce can confirm that it is Guillermo del Toro who is attached to the project, naturally. Sources tell us that Guillermo has been circling the property for quite awhile, and that the deal was just recently sealed. It has simply not been announced officially due to the number of projects that the director has on his plate. Del Toro, who is tied up with Hellboy for the next two years, has his hand in at least a half-dozen other films in various stages of development.

He'll likely follow Hellboy with The Coffin, a comic book adaptation which will be scripted by Tim McCanlies (The Iron Giant). After that he'll probably tackle Mephisto's Bridge or Montecristo (a.k.a. Left Hand of Darkness), a couple of projects that are pretty much ready to go when he wants them. Then, he could take on At the Mountains of Madness - sources say that Matthew Robbins (Dragonslayer, Mimic) is currently working on that treatment. Not to mention the CG-animated Wind in the Willows adaptation for Disney!

So, where does all this leave The Creature? We're not exactly sure but it could come sooner than later. Sources say that Guillermo is extremely excited about the project (he's a huge fan of the original) and to expect a far more faithful adaptation than, say, Stephen Sommers' The Mummy.

The classic Universal horror flick tells what happens when an expedition group searching for fossils along the Amazon discovers a prehistoric "Gill Man" in the legendary Black Lagoon. The explorers capture the creature, but it soon breaks free. The Gill Man returns and kidnaps Kay, a female member of the expedition with whom it has fallen in love.

-- Brian Linder


From

Cinema Confidential
Guillermo del Toro Helming "Creature from the Black Lagoon" Remake


POSTED ON 08/05/02 AT 2:00 P.M.




BY THOMAS CHAU

Production Weekly reports that "Blade 2" director Guillermo del Toro is set to direct a remake of the "Creature from the Black Lagoon," an old monster film from the black and white days.

The film will be distributed by Universal Pictures. Plans are for the project to shoot in Australia.


The B Movie Month in Review- Del Toro to Tackle "Creature"
September, 2002
From B Monster Bulletin

Rumors regarding the Gill Man's reinvigoration have varied wildly over the past two decades. Now, according to Production Weekly, Guillermo del Toro will likely direct the "Creature from the Black Lagoon" remake. The new version will be shot on location in Queensland, Australia and at last report will "loosely follow" the plot of the original and much-beloved 1954 classic. How "loosely"? As defined by contemporary example, this could mean that the only thing they'll retain is the lagoon, and this director's tastes have tended to lean toward the dark and Gothic. Del Toro's most recent film was the slickly directed, slash-happy bloodfest, "Blade 2." His other credits include "Cronos," "Mimic" and "The Devil's Backbone." He is next scheduled to direct a big-screen adaptation of the comic book series "Hellboy."


Del Toro Wants the Creature Remake
From Dominion News

In a recent interview with Fangoria, director Guillermo del Toro spilled the beans on "The Creature From The Black Lagoon" as well as the latest information on "Hellboy" and "At The Mountains Of Madness."

Anyone who listened to the commentary on the DVD of "Blade II" knows how cool of a director Guillermo del Toro is. He's funny, passionate and damn talented. If anyone was to tackle "The Creature From The Black Lagoon" I would want it to be him.

But how serious is this project? "Very serious indeed," del Toro told Fangoria. "Universal is going through their entire back monster catalog thanks to the success of the MUMMY movies." Stephen Sommers' VAN HELSING continues that. I'd rather direct CREATURE FROM THE BLACK LAGOON than watch someone else screw it up. That was my thought when Universal called me in for talks.

"I'll be given carte blanche to develop the story, although I will bring in another writer," he continues. "I want to set the story in Victorian times during the exploration of the Amazon. The original Creature was essentially King Kong, but I want to make it more a 'beauty and the beast' fable. I want the look and feel to be akin to Jules Verne's tales like 20,000 LEAGUES UNDER THE SEA. I want to increase the horror edge and make it really scary, because my archaeological explorers will discover an area of the Amazon that has been kept on a tangential track of evolution alongside mankind. So there will be giant carnivorous squid, prehistoric sharks and weird alternate lifeforms that shouldn't really exist in such a fresh-water environment. Fish do truly have either an angelic or devilish quality, and I want to play on that.

"The Creature will be the Man of this exotic world," del Toro explains. "He will be very smart and able to turn the tables on his human hunters. I have a scene where the hunters find fossil remains and realize that the Creature's brain cavity is larger than a human one. He's not the lumbering, roaring monster of Ricou Browning's day, but a sophisticated Gill Man that will come to life through a mix of CGI and a man in a suit. In the original film, the Creature falls in love with the Julie Adams character. The twist in my version is that the girl will also fall in love with him. I want her to almost get it on with the Creature!"

Boy, how nuts is that? There's also talk of filming in 3-D, but don't hold your breath for that to happen and there's also talk that Benicio Del Toro (TRAFFIC) would love to star in it.

On the long coming HELLBOY project (based on the Mike Mignolia comic) del Toro says that the cast is set, "HELLBOY stars Ron Perlman, Selma [LEGALLY BLONDE] Blair, Czech actor Karel [15 MINUTES] Roden and hopefully John Hurt. My story is based on the character's origins."

What about his other projects, particularly the Lovecraft adapted AT THE MONTAINS OF MADNESS?

"THE DEVIL'S BACKBONE took me 16 years to make. When I get involved in a project, I'm in for the long haul even if they take years to get right. They are my children, and I want to protect them. AT THE MOUNTAINS OF MADNESS, THE LIST OF 7 and THE WIND IN THE WILLOWS are still all in my field of vision. If anyone is in a hurry, they should move on, and the people I work with are very aware of that."


Guillermo's Word is Law
August 21. 2002

By Ryan Rotten

If he's not busy prepping 'Hellboy' he's slaving (happily, of course) away writing the H.P. Lovecraft 'At the Mountains of Madness' with 'Mimic' co-writer Matthew Robbins on the weekends. And when he's not involving himself in the upcoming 'Cronos' DVD he's crackling with ideas for 'Mephisto's Bridge' and 'Creature from the Black Lagoon'.

Guillermo del Toro is proving to be one of the busiest bogeymen in Hollywood right now.

Your devoted Rotten one, the mighty Johnny Butane, the ghoulish Girlcreeture, and the mysterious Inspector had a chance to hang with the incredibly friendly Guillermo before he had to step on stage and discuss 'Hellboy' at this past Sunday's Weekend of Horrors event. Curious as ever about the long-in-development 'Creature from the Black Lagoon' remake (something Guillermo has recently been attached to) I had to get some kind of confirmation as to whether the rumors were true or if Guillermo's involvement was hopeful wishing on Universal's part. Sure enough, del Toro's attached. His hopes are to not set the Creature remake in a modern day, technology-heavy world but to set his Black Lagoon adventure in the late 1800s! Amen to that, brother. Where, exactly, the Creature film will fit into his schedule is undetermined. Hmmm, let's see, if 'Hellboy' is slated for a 2004 release...


*UPDATE!* The Creature to Live Again?
August 5, 2002
From Creature Corner

By Johnny Butane
Contributing sources: CHUD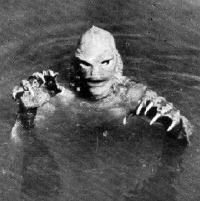 We're going to set this in the rumor bin for right now, but it is being reported by two reputable sources...
Seems that plans are under way in Universal's home camp to do the one thing Ryan Rotten wishes he could do in Hollywood: remake 'The Creature From The Black Lagoon'. Or is that he wishes he could stop it from happening? I can never remember.
Earlier today it was reported that Spanish actor Benicio del Toro was in line to direct the movie for Universal. While this was big news, the truth is even bigger. It was the wrong del Toro, friends. The 'Creature From The Black Lagoon' remake is being helmed by none other than Guillermo del Toro. Wow.
Sources report that, much like our own Rotten one, 'Creature' is one of Guillermo's favorite movies of all time, so this is like a dream come true. The official announcement has not been made yet, mainly because the man has about 50 other films lined up to be made first. 'At the Mountains of Madness', 'Mephisto's Bridge', not to mention 'Hellboy'...God knows when we'll see this. But we will. And that's all I need to make my day.

Cinescape Movie News

CREATURE FROM THE BLACK LAGOON Remake
December 12, 2001

Universal bringing Gillman back to the big screen.
By: FRANK KURTZ
By: News Editor
Source: Hollywood Reporter
Universal Pictures is looking to remake one of its most beloved monster films, CREATURE FROM THE BLACK LAGOON.
Gary Ross' Larger Than Life Prods. shingle will handle the film, which will be produced by helmer Gary Ross with his father, Arthur A. Ross. The senior Ross co-wrote the original 1954 classic's script.
At this point, the project has no screenwriter or helmer.
While talking to the Hollywood Reporter, Gary Ross spoke of tackling the project, saying, "The story my father wrote embodies the clash between primitive men and civilized men, and that obviously makes it a fertile area for re-examination. Plus, I'm thrilled to be working with my dad."
For the two or three of you who never saw the original, it tells the story of a search for prehistoric fossils along the Amazon River. The search for the remains of a fish man brings a party of naturalists to the Black Lagoon, where they encounter a living specimen of the fossil they seek. The film, directed by Jack Arnold, transcended its sci-fi roots resulting in a powerful film that works on a number of intellectual levels while establishing the last truly great Universal Monster icon.
Next up for Ross is an untitled supernatural romantic comedy starring Jim Carrey and Nicole Kidman.


HFA Film News Archive
June 7, 1999
As Stephen Somers latest film "The Mummy" still racks in the bucks (7.5million this week total now of 127.6 mill), a rumour has hit Darkhorizons that he has been asked to Direct a remake of "Creature From the Black Lagoon". The following is a quote from DH posted by Mr Brownings's Opus, "Stephen Sommers has been approached to do a "campy" remake of "Creature From The Black Lagoon" for Universal. It's set in a newly built hotel complex out in Florida. The movie is slated to be produced through Will Smith's company, at Universal." Somers has become hot property of late. Last week he was short listed by Spileberg for Jurassic Park 3. Well whtever the case, it won't be Julie Adams playing Kay Lawrence. So who could Hollywood cast in that position? That is going to be one HOT role.