Gill Man interviewed on
Horror-Wood Online!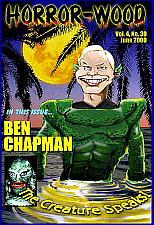 Ben gave an interview to Horror-Wood online magazine in June of 2000. The article includes an online chat with Ben and several pictures from his personal collection of pictures. An introduction appears by John F. Crossen, an Assistant Professor of Spanish at Mansfield University in Pennsylvania.
Ben has also been featured in several other national magazines including Scary Monsters, Famous Monsters of Filmland, and Stoners Monster Mayhem.