Ben Chapman joins Julie Adams at
Chicago Flashback 2004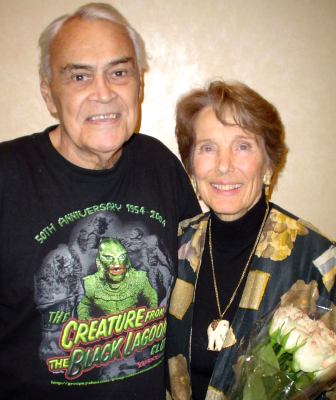 JULY 30-AUGUST 1 2004
Holiday Inn O'Hare International
Rosemont, Illinois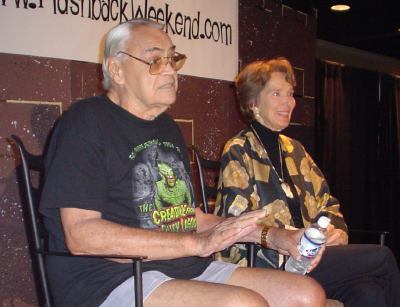 Ben and Julie answer questions from the audience.
According to the Chicago Flashback website, "Guests were enthralled by the kick off event - Joe Bob Briggs leading the audience in the Drive-In Oath. They were awed by a festival of classic 60's and 70's drive-in and cult coming attractions courtesy of Ban 1 Productions. During intermission, they were charmed by rare vintage retro drive-in intermission ads.
Their sponsor for Friday evening was Anchor Bay Entertainment and the program featured the Chicago premiere of the bold, new Dario Argento film "THE CARD PLAYER"! Prior to which, guests were treated to a restored print of the classic Wes Craven thriller, "THE HILLS HAVE EYES" (introduced by Dee Wallace Stone)!
A capacity crowd packed the drive-in Saturday evening for a screening of a rare 35mm print of the classic "
DAY OF THE DEAD
". They received the ultimate treat when icon and director
George Romero
and the
"DAY OF THE DEAD"
cast members introduced the film, with an extensive pre-commentary! At intermission,
Bill Moseley
took the stage and entertained the crowd by performing famous lines from many of his classic films in character as
Chop-Top
("
TEXAS CHAINSAW MASSACRE 2"
), Otis
("HOUSE OF 1,000 CORPSES"
), and Johnny (
"NIGHT OF THE LIVING DEAD
").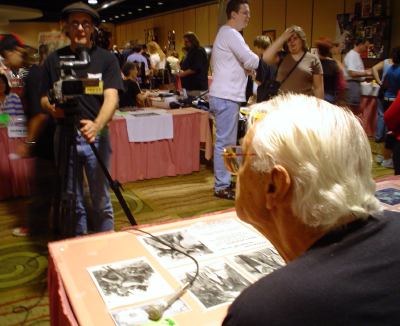 Ben is interviewed for a Chicago television broadcast.
After this extravaganza, Flashback featured the Chicago Premiere of Tobe Hooper's "THE TOOLBOX MURDERS". Not to be outdone, star and goth classic actress Angela Bettis introduced the movie! Guests were fascinated by the scope of the event and after the features ended, left the drive-in breathless in anticipation of the next event!
After all that excitement, Sunday evening was designated as time to sit, relax and enjoy the show which featured an hour-long marathon of classic drive-in trailers from the 60's and 70's courtesy of Ban 1 Productions. The evening was topped off by a screening of the retro-drive-in "classic", "INVASION OF THE BLOOD FARMERS" (courtesy of Hollywood Book and Poster).
Guests entered our Drive-In event by "walking in"! They enjoyed the evening's open-air motion picture entertainment from the comfort of their own lawn chairs. The weather was perfect! The drive-in was a massive success and will return at future events.