60th Anniversary Special!
All 30 Universal Monsters Blueray!

Pre-order now!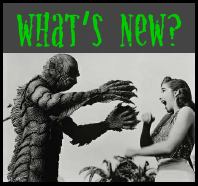 Creature From the Black Lagoon: Complete Legacy Collection:
This Blu-Ray DVD has both the regular and 3D version of The Creature From the Black Lagoon!

Ben and Webmaster at Chicago Flashback

Click the picture on the left for a movie!
8-26-02

Ben and the webmaster of his web site spent time together recently at the Chicago Flashback convention. Ben has recovered nicely from his hip surgery and spent his time signing autographs and conversing with his many fans. It was nice to see many children approaching him. Apparently many adult fans are hooking their children on the Gillman! Ben has been keeping a busy schedule lately with appearances almost every other week.

As the picture shows, Ben still can't get out of character since his appearance in The Creature From the Black Lagoon!
© 2018 by the
Ben Chapman Family
Problems? Questions? E-mail the