60th Anniversary Special!
Pre-order now!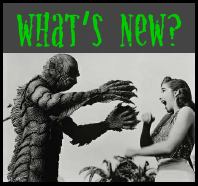 Universal Classic Monsters: The Essential Collection:
This Blu-Ray DVD has both the regular and 3D version of The Creature From the Black Lagoon!



WHAT: THE SECOND ANNUAL CREATUREFEST FILM FESTIVAL
WHEN: FRIDAY, Saturday, and SUNDAY, NOVEMBER 7, 8, AND 9, 2003
WHERE: WAKULLA SPRINGS STATE PARK – Wakulla Springs, Florida
PRESENTED BY: TALLAHASSEE FILM SOCIETY and Friends of the WAKULLA SPRINGS STATE PARK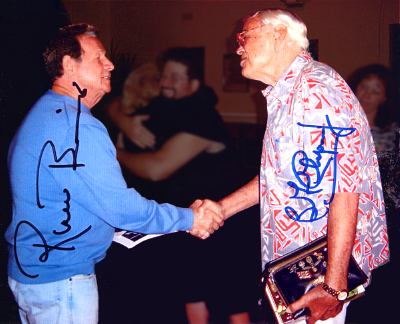 Ricou Browning and Ben Chapman meet at Creaturefest after many years. Ricou played all the underwater scenes and Ben played all the above-ground scenes.
Click on the picture above for a larger image.

In November 2003, the Creature from the Black Lagoon cast will be reunited for the fifty year anniversary of the filming. The Tallahassee Film Society, a non-profit group dedicated to promoting Film as Art in Florida's Capital City, is co-sponsoring a special event with the Friends of the Wakulla Springs State Park, where scenes from "CREATURE FROM THE BLACK LAGOON" were filmed in 1953.

This year's third Annual CREATUREFEST will feature four very special guests.

---Ben Chapman, who played the Creature,
---Ricou Browning, who played the underwater Creature,
---Julie Adams, who played Kay Lawrence and
---Ginger Stanley (now Ginger Hallowell), who was featured in underwater sequences as a double for Julie Adams.

Chapman, Browning, Adams and Stanley will share stories about the filming of CREATURE during the Tallahassee Film Society's "CREATURE FROM THE BLACK LAGOON WEEKEND," November 7th, 8th and 9th, 2003.

THE LOCATION: WAKULLA SPRINGS STATE PARK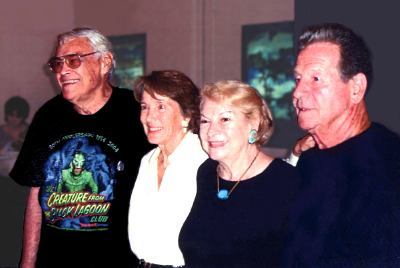 Wakulla Springs State Park is the perfect setting for this historic reuniting of the beast and his beauties. Wakulla Springs has been used by Hollywood production companies for several features, including films in the CREATURE and TARZAN series. Best of all, because the spring is a state park, it exists in almost the same condition as when the movie was filmed in 1954. Click on image on the right for a larger image!

Located about 15 minutes south of Tallahassee, Florida, Wakulla Springs State Park features a beautiful lodge built in 1937, world famous glass bottom boat rides over the spring, and a full river boat tour. The mysterious "black lagoon" is actually the world's largest natural spring, and the Creature's "home" is the resulting river and natural habitat that surrounds the spring.

GINGER STANLEY

Ginger Stanley created the now-legendary underwater ballet sequence in the original CREATURE FROM THE BLACK LAGOON (1954). In the film, Stanley swims across the surface, her silhouette casting shadows on the Creature, who mimics her actions below.

Stanley began a career in the water with Weeki Wachee Springs, in 1950. Just out of high school, she was a Florida beauty pageant contestant when she joined a troupe of performers whose act consisted of eating, drinking, and dancing ... underwater. The Weeki Wachee mermaids performed 45 minute shows around the clock, breathing air from a tube.

Stanley later worked at Silver Springs as a public relations officer, swimmer, and in-house model. Between performances, Stanley also broke the record for the longest underwater swim: 7 miles and 3 & 1/2 hours. A friend followed along Silver River, recharging her aqualung.

Stanley stunt doubled for Julie Adams in the original CREATURE (1954), and the Gill-Man got his hands on her again in 1955's REVENGE OF THE CREATURE. (Remember the scene where the Creature grabs the "Woman on Pier?" That's Ginger!) Stanley also doubled for Esther Williams in 1954's JUPITER'S DARLING, performing after Williams suffered a perforated eardrum. Stanley's later career included a job as an underwater weathergirl on the DICK VAN DYKE SHOW, and a stint hosting a TV variety show, BROWSING WITH GINGER.

After marrying and changing her name to Hallowell, Stanley left her underwater career to raise three daughters. Stanley now calls Florida her home, and looks forward to revisiting Wakulla Springs for the Creaturefest event.

JULIE ADAMS

Julie Adams acting career got started when she moved to California from her native Iowa. She worked to support herself as a secretary while she was making her way through the Hollywood casting departments. Her 1st movie role was in Paramount's RED, HOT AND BLUE (1949). Universal soon saw her potential and signed her to a contract. It was her role as Kay Lawrence in CREATURE FROM THE BLACK LAGOON that moved her into leading lady roles.

Adams has a film and TV career history spanning over 50 years. On the big screen she starred in THE PRIVATE WAR OF MAJOR BENSON with Charlton Heston (1955), TICKLE ME with Elvis Presley (1965) and MCQ with John Wayne (1974) just to name a few. Her TV career is equally impressive with work including: THE JIMMY STEWART SHOW (1971), GENERAL HOSPITAL (1968), CAPITOL (1983-1987) and MURDER SHE WROTE (1987-1993).

RICOU BROWNING

Born in Fort Pierce, Florida, Ricou Browning grew up in nearby Jansen Beach and got a career start diving and springboard diving in local water shows. By the time he was in his early 20s, he was producing underwater shows at Weeki Wachee Springs and topside water shows at Rainbow Springs and other locations. After playing the Gill Men in the underwater scenes of Universal's "Creature from the Black Lagoon" and its sequels ("Revenge of the Creature," "The Creature Walks Among Us"), he got into the swim of film and TV production as a result of an encounter with producer Ivan Tors; Browning ended up president of Tors' Florida studios. (Browning was involved on Tors' "Sea Hunt," "The Aquanauts," the "Flipper" movies and TV series, etc.) He has also worked as a director (above and below water), second unit director, writer, stunt man and stunt coordinator.

BEN CHAPMAN

A retired real estate executive from Honolulu, Hawaii, was only 25 years old in 1954, when he landed the role of the Gill-Man in the original CREATURE FROM THE BLACK LAGOON. "You never know how things will turn out in the movies," says Chapman of his long-lasting fame.

Chapman was a contract player with Universal International in the early 1950s, doing stunts and playing a wide variety of roles on an as-needed basis. The casting director responsible for finding performers who could play "wranglers, cowboys and Indians" asked "Benny" Chapman if he had heard about the picture about "some creature from some lagoon." Chapman hadn't. Director Jack Arnold asked the 6'5" Chapman if he could swim. "I said, 'like a fish,' because I was from Tahiti, so he sent me to his office. I got the part."

"The creature suit was a one-piece outfit that zipped down the back with dorsal fins, hands that were gloves, feet that were like boots," Chapman said of his costume. "They had to lay me on a table, take a complete Plaster of Paris mold of my body, then design this costume. I couldn't lose or gain weight, or I wouldn't fit right. The whole experience was like climbing into a large body stocking with creases where you needed 'em."
The Gill-Man had no dialogue, so Chapman had to use body language to communicate.


THE FILMS:

Films featured will be the original CREATURE FROM THE BLACK LAGOON (1954); Plus four additional films TBA. All films are shown outdoors in a large screen drive-in format with FM (radio) sound