Beverley Owen as Marilyn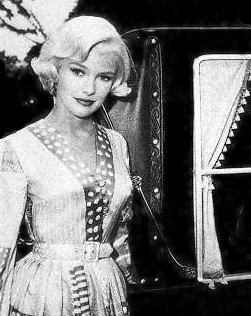 Beverley (first name was misspelled) did the first 13 episodes of The Munsters. Why did she leave the show? "I wanted to get married," says Owen, who lives in New York City. "That is the reason I left.

There were a lot of other theories put forward, but that's the reason. I was in love with someone who lived in New York and I left my contract so we could get married and he's the father of my two children."

That's the happy part of her story. Now for the unpleasant part: She says she was cast in "The Munsters" against her wishes and that leaving severely cramped her career.

"I was under contract, a seven-year contract to Universal. In the first year of it, they would fly me out from New York to L.A. to do `The Virginian,' `Wagon Train,' `Kraft Mystery Theater,' an Audie Murphy movie. Then they put me in the series, which I protested at the time. I was told, `Do it or we'll sue you.' So I moved to California under protest and negotiated out of it."


Because of her dispute with the studio over leaving (but also because of her commitment to marriage and motherhood), Owen's career opportunities dwindled. "I was not allowed to do anything except commercials and occasional one-shots," she says. "I probably should have challenged that in court. But I knew I wanted to get married and have kids and I did. But I was not allowed to do anything for 5 1/2 years."

Like Priest, Owen says she rarely is recognized as Marilyn any more. "Pat Priest didn't wear a wig, but I'm not a platinum blonde. Mine was a wig, so I don't bear a strong resemblance."

Owen suspects that "The Munsters" (now playing in reruns on TV Land) endures because the humor is timeless. "It's interesting. We did not think at the time that the scripts were as good as they might have been. And Fred Gwynne [who played Herman] and Al Lewis had just done `Car 54,' which they loved doing. But Fred once said to me a few years ago, `You know, I've seen a rerun of "Car 54" and in some ways it's more dated than "The Munsters."



Name:
Marilyn Munster
Age:
Varies (approximately twenty-three)
Appearance:
Blond, beautiful, sexy
Genealogy:
Daughter of Lily Munster's unamed sister
Abilities:
Cooking, chatting, smiling
Marital Status:
Involuntarily single- does well on dates until she brings them home.
Education:
Attends Westbury College
Noticeable Quality:
Periodic melancholia
Goal:
To find a man - any man. All she has to do is get him past the front door.
Pat Priest as Marilyn

Pat Priest did the remaining 70 episodes of The Munsters. When Pat Priest was 15 years old, her family moved from Salt Lake City to Bountiful, Utah. Although her childhood was spent in a small town, she got quite a bit of exposure to entertainment work through her mother, Ivy Baker Priest, who often wrote, directed and produced road shows for the Mormon church. Ivy was increasingly active in politics and by the time Pat reached her junior year in high school, her mother was named United States Treasurer whose signature appeared on U.S. currency from 1953 to 1961.

Relocating to Washington, D.C., Pat soon started taking the crown in beauty contests. Pat discovered, however, that she had inherited her mother's interest in show business rather than politics, and after an appearance on "Art Lamb in Washington", she left the Washington social scene and made her way to California. She got some experience under her belt working in community theatre, including the Alameda Little Theatre, the London Circle Players in Oakland, and the Players of the Golden Hind in Berkeley. This led to a few local TV commercials and she soon began getting guest shots on TV shows.

In 1964, in the middle of the initial season of The Munsters, Beverly Owen decided to leave the series, and the part of Marilyn Munster was up for grabs. Marilyn, of course, was the "plain one of the family", the normal one in a family of "monsters". Pat got the part, and made her initial appearance on the last episode of the first season. She remained in the role until the series ended in 1966.

Her appearance with Elvis came a year later. In Easy Come, Easy Go, Pat plays Dina Bishop, the "bad girl" who gets in Elvis' way while he and Dodie Marshall search for treasure. Pat's memories of Elvis and that time were fond ones, although she regrets one thing: She bought Elvis' Cadillac (a 1967 El Dorado), and later traded it for a Pontiac! "If I had it today, I could retire!", she says.

Although not fully retired yet, (she occasionally makes TV appearances) Pat and her second husband, Fred Hansing, are settled in Haley, Idaho. Pat no longer has a website, but you can write her at:


612 Lighthouse Ave., #220
Pacific Grove, CA 93951


Pat's latest movie is called Soupernatural. Butch Patrick appears in the film with her.

Pat Priest's Filmography





---
Notable TV guest appearances