Nate "Happy" Derman and Butch Patrick as Eddie Munster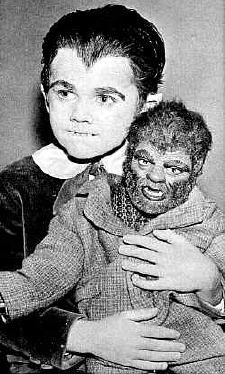 In the pilot, Nate "Happy" Derman played Eddie Munster. Butch Patrick played Eddie throughout the television series.

Nate Derman has appeared in a movie and a few other television shows:

Mr. Ed - "Ed's Juice Stand," Episode #1, 1965.

The Beverly Hillbillies - boy #2
Jethro's Graduation (6/10/1964)

Family Jewels - 7/1/65, with Jerry Lewis.

Summer Fun - "Little Leathernecks," Pilot episode, 1966.

I have been fortunate to get in contact with Nate. I will add his biography here later, but I want him to have some input into what the bio says. I know he values his privacy.

Butch Patrick's real name is Patrick Lilley and was born on August 2, 1953, in Los Angeles. His film and TV credits include:

His first acting job was a Kellogg's commercial in 1960. Regular on TV's "The Real McCoys," "General Hospital," and "My Three Sons." In between, he appeared in numerous commercials and guest spots on many situation comedies throughout the sixties.
Shortly after The Munsters wasn't renewed, on 9/29/1969, Butch appeared in an episode in season 2, episode 1 of Adam-12 as Tony Nicola. From the sound of his voice, his voice was at the beginning to lower. See two shots from that episode below.


In 1971, Butch starred in the Saturday morning kid's series, "Lidsville," opposite Charles Nelson Reilly. This show lasted until 1973. Butch appeared that year in several teen magazines.
In 1983 he formed his own band, Eddie and the Monsters, and put out a single, "Whatever Happened to Eddie?"
Butch has appeared in the following TV shows and movies:
Family Band
Munsters Go Home
The Phantom Tollbooth
The Untouchables
Divorce Court
Gunsmoke
Rawhide
Daniel Boone
The Monkees (Christmas show)
Talk shows including Oprah Winfrey, Geraldo, Pat Sajak, Jane Whitney, Good Morning America, Solid Gold, the Today Show and MTV.

Butch is still active in entertainment. In 2008, he appeared in the movies, It Came from Trafalgar and Soupernatural (along with Pat Priest). Butch now lives in St. Petersburg Beach, Florida and maintains the official Munsters website.
Eddie's Stats
Edward "Eddie" Wolfgang Munster was born 1955 and wears a Little Lord Fauntleroy suit. He carries his doll, "Wolfie" around wherever he goes.
Education:
Enrolled in fifth grade at Mocking Bird Heights Elementary School.
Achievements:
Wrote school composition titled "My Parents, an Average American Family" (written in blood ink); won several ribbons for track competition at school.