Used by permission from:


Ben Chapman:
The Real Creature from the Black Lagoon
by Steve Buchanan
In 1954, a horror film was introduced that shocked and electrified audiences. And some 48 years later, it's just as popular, if not more so than when it originally debuted on the big screen. Up from the dark, murky waters of the mighty Amazon River, a creature appeared. He was docile, until humans trespassed on his habitat, which had been unchanged for thousands of years. The men were scientists who on a dig, found a curious fossil. It would arouse their suspicion and at the same time peak their interest. They had to know what had left the fossil behind. What they didn't bargain on was on finding out more about the fossil, and coming face to face with one of its relatives. Was it a fish? Was it a man? Maybe both! In my opinion, "Creature from the Black Lagoon" was in a lot of ways a "Beauty and the Beast" type story. The monster only got riled up when people bothered him. Once he saw Julie Adams, he fell in love with her.
Universal International Pictures released the "Creature From The Black Lagoon", and it didn't take long for it to take its place along side of other classic horror films by the studio: "Dracula" with Bela Lugosi; "Frankenstein" and "The Mummy" with Boris Karloff; "Phantom of The Opera" starring Lon Chaney; and "The Wolfman" with Lon Chaney Jr. The Gill-Man was in good company with the most famous monsters of all time.
Over the years, there has been some confusion and misinformation regarding the identity of the real Gill-Man. One man played the creature, and another man was the actor's stunt double. Ben Chapman was, and is, the real deal. "There were two units shooting the film. The first unit was strictly the actors, Richard Carlson, Julie Adams, Richard Denning, Antonio Moreno and myself. We shot all of the scenes at Universal Studios in Hollywood. Unit two was stuntmen and our doubles, including the man who doubled me on the underwater scenes. That unit only shot in Florida, never at Universal", Mr. Chapman would say.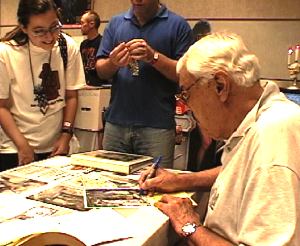 Unfortunately, over the years, several hundred photos of the Creature have been signed in error. All of the promotional stills from the film featuring The Creature with Julie Adams, or on land were that of Ben Chapman. Any underwater shots were that of his double in the movie. "I just believe in being honest and setting the record straight. Photos are floating around of me, signed by someone else. I would never sign a photo that was not of me", he said. Mr. Chapman is 6 foot 5, and his double is 5 foot 8. Knowing that, it's easy to tell who is who.
Ben Chapman was born in Oakland, California in 1928. His parents were vacationing at the time of his birth. "I like to tell people that I was born in Oakland because I wanted to be close to my mother," he'd say with a hearty laugh. Shortly after his birth, the family returned to Tahiti, and lived there until Mr. Chapman was 12. In 1940, the family moved to California, settling in San Francisco. After High School graduation, Mr. Chapman was on the move again, this time to Santa Monica to find his way into show business. He began his career entertaining in nightclubs, singing and dancing, bringing the sounds and feeling of Polynesia to the mainland. He entertained in the clubs for the next ten years, and then his life would take another direction. He was called into action in The United States Marine Corps. For the next two years, he'd see action in the Korean War. Mr. Chapman served his country well, and after discharge in 1952, he returned to show business and the nightclubs. Just a short year later, Mr. Chapman was offered a one-year contract with Universal International Pictures. The young singer, dancer and now actor, was on his way! "It was during that time period that I was lucky to be in the right place at the right time, and to be signed to play the Gill-Man", Chapman recalls.
Tall in stature, and a great sense of humor, he was a sight in the costume. He'd often scare visitors on the lot by slowly coming up out of the water, and jumping straight up in the air, right at the visitors. "One day between shots, someone came up and told me that Rock Hudson was bringing some people on the lot for a visit. I went into my routine, and boy, they loved it! But once the Studio Executives found out how much fun I was having, they told me, 'Benny, don't do it anymore, you'll give someone a heart attack!' So that put an end to my fun!"
There were two more creature films to follow, but Mr. Chapman's contract had run out and was not asked to participate in the sequels. After creature, Mr. Chapman went on to other film, stage and television projects over the years. In the 1960's, he went on to other things leaving show business behind. He worked for The Seven-Up Bottling Company in Los Angeles for several years, and also had careers in Hawaiian Tourism and for many years worked as an executive in Real Estate Investment. In the 1990's, Mr. Chapman came out of retirement to start a new career, back where it all started with the "Creature from the Black Lagoon".
"I got a call one day, out of the blue. This guy says are you Ben Chapman? I say yes, I am. Are you the Ben Chapman who played The Creature From The Black Lagoon? Again, I said yes, I was. He went on to tell me about Autograph shows and conventions that were at that time just starting up. We talked a bit about it, and then he asked if I'd be interested in doing one. After thinking about it for a minute, I thought, why not!"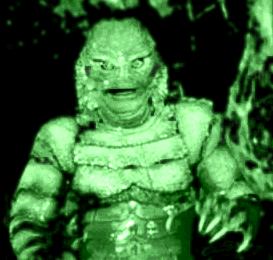 Mr. Chapman has a great time mixing and mingling with fans both old and new at these shows. He affectionately refers to his fans as "Gillies". "Some of these celebrities do the shows for the money. Not me, don't get me wrong, money is good and all, but for me it's about the fans. It's my way to give them payback. I know that without them, I'd be nowhere. I love people, especially the kids. If a child leaves my table with a smile and is happy, then I know I've done something right. It makes me feel good inside to know that for a few minutes spent with someone you can really make their day."
The "Creature from the Black Lagoon" has always been extremely popular with film fans, and with the re-issue of the film on DVD, fans can hear the actors and people behind the scenes discuss the film.
When asked about the enduring appreciation for the character and film over the past four decades, a humble Ben Chapman summed it up this way: "It is all because of the quality people involved with the making of the picture, from the actors who were perfectly cast, to the writers and editors who put it all together. All of these elements, together, make this a truly special picture. From the eerie lighting and music, it had it all. I'm very proud of my association with this film and the people who indeed made it a classic over the years".
When asked how he'd like to be remembered, Mr. Chapman sincerely stated, "I'd like to be remembered as a nice person, that's all. I pride myself on being good and nice to others. I hope people remember me that way, and as a great Dad."
On his web site, Mr. Chapman has a wide variety of signed photos available to fans. For $25 fans get three autographs for the price of one. When ordering a signed photo, you also receive a signed "Gill-Man" 100-dollar bill known as a Gilly Buck, and a signed copy of Mr. Chapman's 1953 Universal Contract. You'll be getting three autographs and a piece of history!
For fans wishing to have items of their own signed, for example, the Universal Studios Monster action figures, or other memorabilia, the charge is $20 plus an appropriate SASE. Please include the name of the recipient, as Mr. Chapman likes to personally inscribe each item!