60th Anniversary Special!
All 30 Universal Monsters Blueray!

Pre-order now!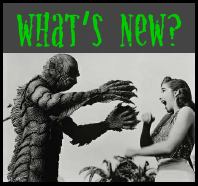 Creature From the Black Lagoon: Complete Legacy Collection:
This Blu-Ray DVD has both the regular and 3D version of The Creature From the Black Lagoon!

Art by Basil Gogos
According to his web site, Basil offers the following quote:

During the heyday of the vingage era fright-film, I excelled in painting monster portraits. Cinephiles instantly took to the emotion and pathos - these fearsome faces elicited in fiery colors. I love color.

After my formal education, I studied at various art schools in Washington, D.C., and New York. I think for the next 12 years, off and on, I was absorbing liquid ideas and applications like a sponge.
Now, as a professional artist, I can look back at perhaps two thousand paintings and say, "I think I must have done it all." From book and magazine covers, to editorials, movie and theater posters, to portraits, murals and even ad agency work - you name it. Sometimes it seems a lonely life, that of an artist, but I wouldn't be anything else. I don't regret one minute of it.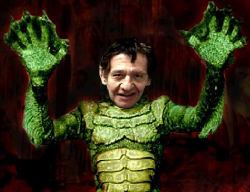 2006